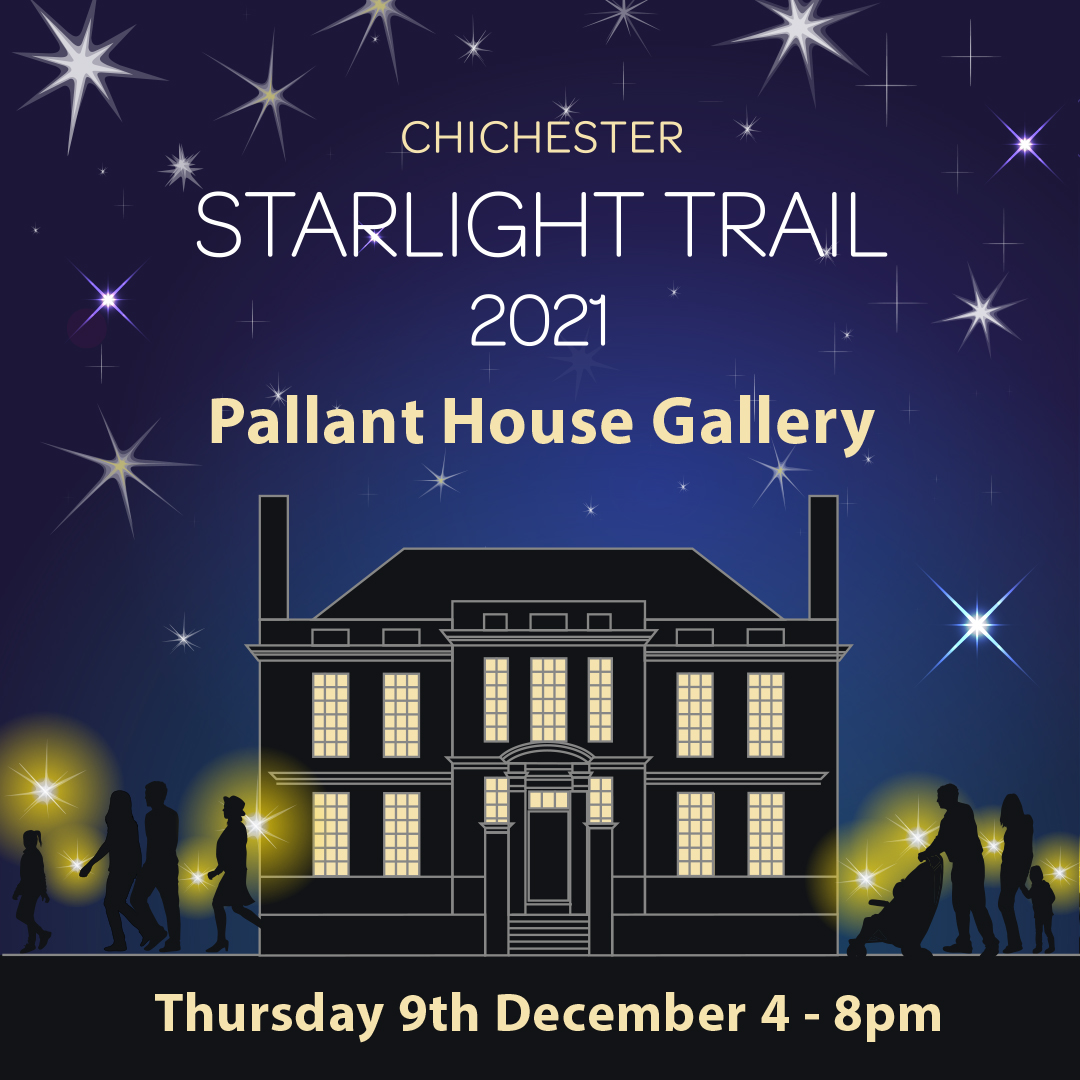 Chichester Starlight Trail
4 - 8 PM
Free
[ Children )
Join us for a fun festive family night out
If you are looking for a fun festive family evening, collect a Starlight Trail passport and make your way through the city along a designated route. Make stops at Pallant House Gallery, the Novium Museum and Chichester Library where you can create a star lantern to light your route and take part in festive crafts and activities.
You can also collect stamps along the way, with those collecting 3 stamps or more being entered into a prize draw to win a £40 Chichester gift card!
Choose one of the below routes to follow throughout your evening, and enjoy late-night shopping and a variety of activities in the city centre.
The Novium Museum: Make a festive bookmark, Christmas character or mini Christmas tree for your (big!) Christmas tree, and enjoy our Christmas trail in the museum galleries!
Pallant House Gallery: Be inspired by our exhibition of artists' Christmas cards and then have a go at to designing your own Christmas card. Explore the Model Gallery and create your own mini-shoebox gallery.
Chichester Library: Decorate a wooden Christmas tree decoration, and listen to Christmas stories in the children's library!
Storytelling at the Market Cross: Join Chris North at the Cross for half an hour of interactive Christmas stories with sounds, lights and fun!
Starting venues:
| | | | | | |
| --- | --- | --- | --- | --- | --- |
| Route number | A1 and A2 | B1 and B2 | C1 and C2 | D1 | D2 |
| Starting venue | The Novium Museum | Storytelling at The Market Cross | Pallant House Gallery | Chichester Library | Chichester Library |
| Starting time | 4pm | 4pm | 4pm | 4pm | 4.30pm |
Full routes:
| | | | | | | | | |
| --- | --- | --- | --- | --- | --- | --- | --- | --- |
| Time | Route A1 | Route A2 | Route B1 | Route B2 | Route C1 | Route C2 | Route D1 | Route D2 |
| 4pm | The Novium Museum | The Novium Museum | Storytelling at the Market Cross | Storytelling at the Market Cross | Pallant House Gallery | Pallant House Gallery | Chichester Library | Late night shopping |
| 4.30pm | The Novium Museum | The Novium Museum | Storytelling at the Market Cross | Storytelling at the Market Cross | Pallant House Gallery | Pallant House Gallery | Late night shopping | Chichester Library |
| 5pm | Chichester Library | Late night shopping | The Novium Museum | The Novium Museum | Storytelling at the Market Cross | Storytelling at the Market Cross | Pallant House Gallery | Pallant House Gallery |
| 5.30pm | Late night shopping | Chichester Library | The Novium Museum | The Novium Museum | Storytelling at the Market Cross | Storytelling at the Market Cross | Pallant House Gallery | Pallant House Gallery |
| 6pm | Pallant House Gallery | Pallant House Gallery | Chichester Library | Late night shopping | The Novium Museum | The Novium Museum | Storytelling at the Market Cross | Storytelling at the Market Cross |
| 6.30pm | Pallant House Gallery | Pallant House Gallery | Late night shopping | Chichester Library | The Novium Museum | The Novium Museum | Storytelling at the Market Cross | Storytelling at the Market Cross |
| 7pm | Storytelling at the Market Cross | Storytelling at the Market Cross | Pallant House Gallery | Pallant House Gallery | Chichester Library | Late night shopping | The Novium Museum | The Novium Museum |
| 7.30pm | Storytelling at the Market Cross | Storytelling at the Market Cross | Pallant House Gallery | Pallant House Gallery | Late night shopping | Chichester Library | The Novium Museum | The Novium Museum |
*Venues and times are subject to change